Come see our systems in operation on Pete Watermans Discover the West Coast Main Line from July 16th 2021. Event details here.
This OO gauge layout is longer than 70 feet and uses three mimic panels driving servo operated points. We designed colour light controllers in conjunction with Pete Waterman to give him exactly what he needed to bring the layout to life. These feature fully automatic operation and are linked together to provide prototypical signalling.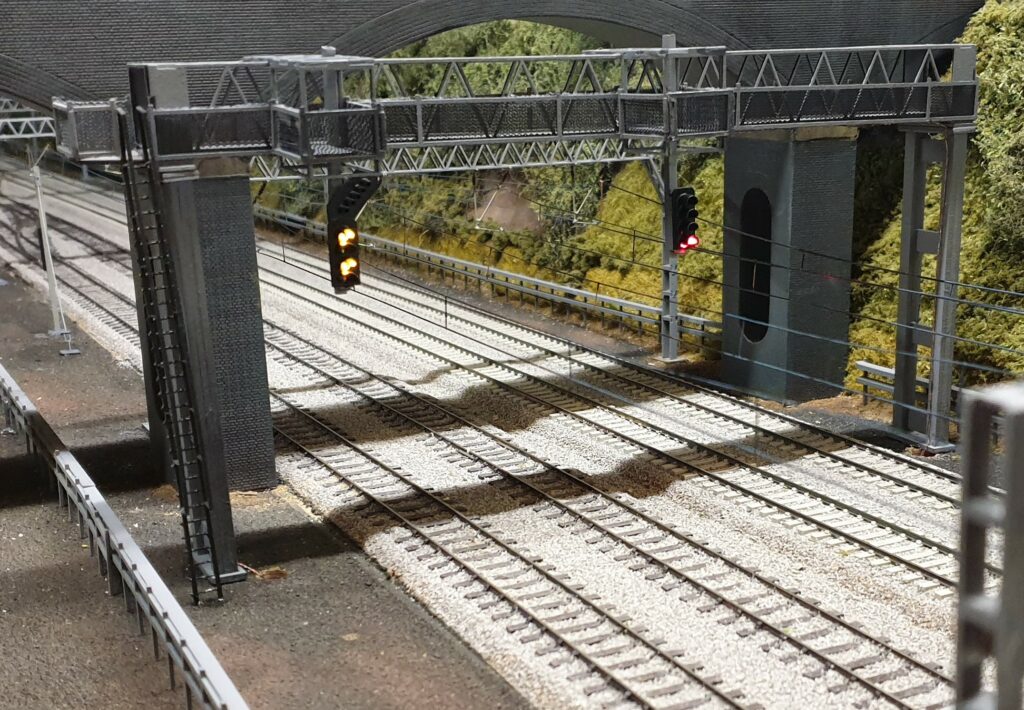 They are also capable of automatically stopping trains when set to danger and have feather signalling and diverging route four aspect signalling just like the real thing.
We'll make a product announcement in August and list the controller on our web shop once we have sufficient stock.
Come see us at the exhibition in Chester Cathedral from July 16th.
Pete discussing how signals transformed the layout here.
Video of Pete Introducing the layout here.
Video explanation of the four aspect signals here.
---
Welcome to the home of MegaPoints Controllers, British manufacturers of model railway layout control systems. On this site you'll find videos, downloadable user guides and documentation, examples of our custom made mimic panels and our web shop.
If you're stuck trying to find the latest user guide or video to help with your purchase it's simple. Go to the online shop, click on the product you're looking for and you'll be presented with the most current videos and user guides.
Not sure which products are right for you? Send us an email (info@megapointscontrollers.com) and we'll do our best to help you. Be sure to include the turnout motor type you plan to use and any other relevant information. Be direct so we can answer as quickly as possible as our email volume is high.
Enjoy our website, videos and products!
Returning to the 'new normal'.
Coronavirus forced changes to the way we operate and some have been for the better. We changed our UK shipping service to Tracked 24 or Tracked 48 and all international orders to Tracked, providing a fully traceable service from Royal Mail.
We integrated our despatch and shipping system to order processing so customers see an email with tracking details from us and from Royal Mail automatically. This has improved order accuracy and means we can ship orders placed by 2pm on the same day.
Almost all products are shipping from stock (only one cable pack is on back order at time of writing) and bespoke mimic panels are being turned around within four weeks, a full 2-4 weeks ahead of our time estimates.
We now separate people into different rooms to minimise the virus risk at any given time. It takes a little more planning but has the benefit of helping streamline the workload. This continues to allow order processing, product manufacture and mimic panel design and manufacture to take place in parallel and with little physical personnel overlap.
International shipping backlogs from Royal Mail have dissipated and packages are flowing at almost normal speeds.
Stay safe and hope to see you soon.
International customers should check the Royal Mail advisory notice for the latest service information.
How to navigate this site
Looking for the user guide or introduction video for a product you've just bought? Navigate to the shop, select your product and scroll down to the resources.
Have a question? Look in the FAQ (frequently asked questions). It's probably already been asked and the answer will be found here along with advice and links to power supplies and servos.
We offer a bespoke mimic panel build service with fast turnaround times. See the Custom mimic panels section for details.
Our Exhibition Calendar lists our planned shows, come and meet us.
We have an extensive video library covering all versions of our products in the Videos library section.
All user documentation (if you know what you are looking for) may be found under the Documentation section.