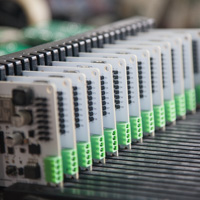 Introducing System2, our new generation of model railway accessory products. With our cutting-edge V-Port protocol (virtual port), this system can handle up to 60,000 accessory devices on your model railway. Whether you're starting with a single Servo8 driver board or expanding to a large layout, this system offers unmatched flexibility. As we continue to release new modules, they will seamlessly integrate with your existing System2 setup.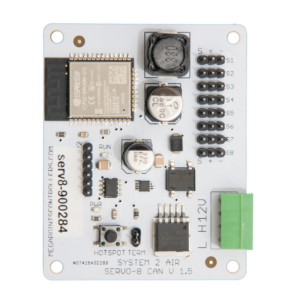 With System2, configuring your system is a breeze. Using wireless Wi-Fi technology, you can easily set up your devices using a PC, tablet, or phone, eliminating the need for complicated buttons, flashing lights, and extension cables. We also use a high-speed, low-latency CAN network for data, ensuring exceptional reliability and security. If you choose, you can even shut down the Wi-Fi network after configuration for added security.
Not only is System2 easy to set up, but it also allows for seamless software updates. If your network allows Internet access, you can update all System2 Air modules with just the push of a button. This means that as new features and improvements are introduced, you can benefit from them immediately, and with the ability to see what's changed in each update and the option to decide whether to install it, you're always in control.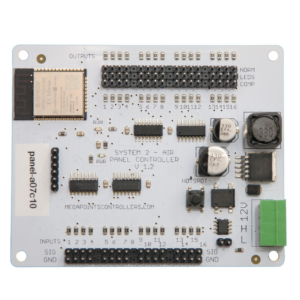 We are proud to say that System2 has been rigorously tested on some of the largest exhibition model railway layouts in the UK for over a year before launch, ensuring it can handle any model railway setup and fits all your needs. Each board has the administrative core built-in, allowing you to connect to any board's admin web page to manage your entire network, and there's no central point of control, ensuring reliability and robustness. We use Internet standard web protocols for configuration leaving you in complete control of your network.
System2 Air is the ultimate solution for model railway setups of all sizes, and it's designed and manufactured right here in Cheshire, England. To get started, all you need is a standard Wi-Fi router and you're ready to take your model railway to the next level.
MQTT and JMRI included as standard
For the tech savvy amongst you, we released MQTT support in early March 2023 for the servo8 and panel controller products and have subsequently extended this to all System2 products. This is available via the software update process. Users will be notified on the admin page status screen.
What does MQTT mean for me?
MQTT enables WiFi for system control so the CAN bus connections are optional, not required. This means you can operate your System2 boards via a wired CAN interface or WiFi without networking cables. You will have the best of both worlds, WiFi for convenience and CAN for bullet proof operation. You get to choose which technology to use.
With this patch comes support for JMRI via the MQTT interface with data flowing in both directions. You can use a servo8 driver on its own under the complete control of JMRI or in conjunction with a panel controller for physical push buttons and LED indicators in both a physical and virtual mimic panel.
You can also configure the switch inputs on a panel controller for sensors sensing DCC block occupancy or points position indication and inform JMRI.
No dedicated PC interface is required as it uses your network for all traffic.
*** An MQTT broker is required. This is free software and can reside on the machine running JMRI, a Raspberry Pi or scaled up using a separate dedicated host. See the JMRI website or our videos on how to download and install.
Development roadmap
16+16 Port I/O panel controller (Now)

Frog/Relay driver (Now)

DCC accessory decoder (Now)

MQTT WiFi support (Now)

RFID dual reader module (Now)

RFID quad display module (Now)

Route Engine

JMRI support (WiFi) (Now)

32 Port Output Controller (Now)

32 Port Input controller (Now)

Colour Addressable LEDs
Sound modules
AutoSignal S2
Latching DPDT relay driver
Stepper motor driver with indexing for turntables or sector plates.
JMRI network interface (no Wi-Fi required)
Drivers for all popular motor types:

Servo (Now)

Solenoid

Tortoise / Analogue Stall (Now)

MTB MP10 (Now)

Kato (Now)