This information relates to domestic mail only. International mail remains a fully tracked service.
Update: 17-MAY-2020
We've been live for a week now with our tracked service. Customers should receive an SMS or email from Royal Mail informing of the shipment along with tracking information.
CN22 customs declarations are now automatically generated by the system and are accurate.
We hope the additional tracking information is more useful than a signed for service as determining the progress of your order is now simpler and more accurate.
International orders are tracked where possible.
Current state
We've had a few emails over the past week where people are asking why they can't see their Royal Mail Signed For package on the Royal Mail tracking website after its posted.
We are currently using the Royal Mail Signed For service for domestic mail. This is not a tracked service and will only record proof of delivery as recommended by our credit card processing agency.
In the past, we used to take bags of parcels to our local post office, pay for and have scanned at the point of sale. We stopped this for several reasons. One is the current COVID-19 situation making visits riskier than before, the other is that we became quite unpopular with the regular post office users who sometimes have to wait in line to post a letter because the person in front is weighing and scanning some 50 or 60 parcels. This can take up to an hour when we have a lot to ship.
Two weeks ago we moved to Royal Mail collections. We pre-sort and bag items and frank them. These are then collected by Royal Mail who injects the parcels directly into the mail system at the sorting office.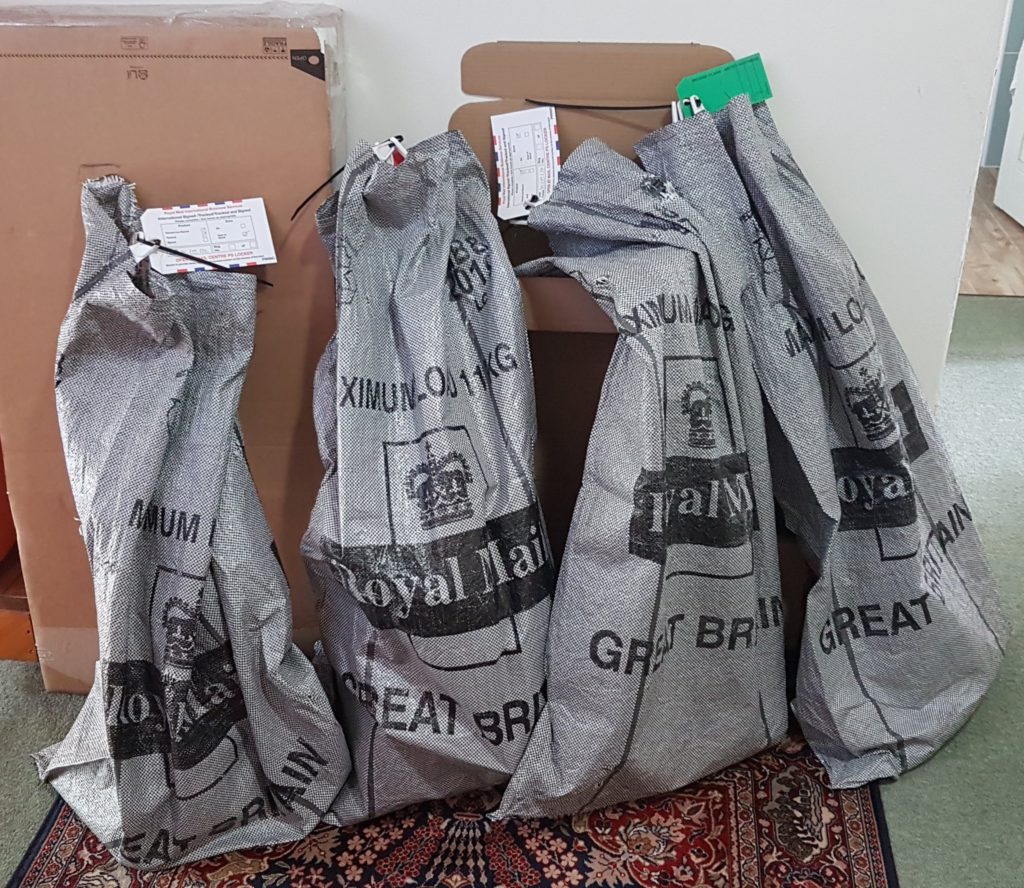 So far so good, except we've bypassed the Post Office and the scan when items are received over the counter.
We'll know when an item is delivered, but the customer has no idea where it is or if it's in the system unless you accept our processed email and tracking number as proof that it is.
Worse still, because of the volume we sometimes mess up (yes, really, it's a thing). We enter the tracking information manually and this is where the next problem can occur.
Going forward
Within the next few weeks we hope to transition to a fully tracked service using Royal Mail 24 and Royal Mail 48 services. This is a fully tracked service.
If a customer has supplied an email address and phone number they'll receive an SMS or email alert with the tracking information directly from Royal Mail. This will show the service (24/48) and where it is and has been in the system.
The customer will also receive an additional SMS or email on the day of delivery with an expected delivery time slot and be offered the opportunity to divert or postpone if required.
The parcels will no longer require a signature, something that seemed to annoy a lot of people, particularly in the olden days when we used to go out to work (pre Coronavirus).
The tracking services have increased our postage costs, in some cases doubling, however we're going to absorb the rise and keep an eye on it.
Orders under £200 goods value will use the 48 hour service, and goods over £200 will be upgraded to the 24 hour service.
BTW: Royal mail classes the 24 hour service as 1-2 days and the 48 hour service as 2-3 days 😐
The above will work well assuming the customer enters their valid email address when ordering. It's not uncommon for typos to creep in and we'll see email bounce messages. The customer will be in the dark wondering where their order confirmation is. This is something we cant fix this end. Just understand your package will have been sent next working day and you'll have it soon.
We have plans to scale up our operation; however the current lock-down has them on hold. We've a lot of ideas for the business in terms of new product ideas, even a new product range, and how to improve the back end administration.
We're still making our own circuit boards, thankfully it's all in house so we've had no disruption so far – fingers crossed.
Keeping you informed.
Dave